JEFFREY GITOMER LIVE IN . . .
DALLAS!
WHERE?
THE HILTON DFW AUSTIN RANCH
2009 Anderson Gibson Rd
Grapevine, TX 76051
WHEN?
OCTOBER 24th & 25th, 2018
Sales Training in Dallas
Jeffrey Gitomer, King of Sales, will appear live in Dallas to provide sales training for both salespeople and sales leaders. The sales training course in Dallas for salespeople is called Sales Mastery. The sales training course in Dallas for sales leaders is called Sales Leadership.
Sales Training in Dallas with Jeffrey Gitomer
When you attend the Sales Training in Dallas for Sales People you will learn:
Sales attitude
Gaining referrals
The law of sales attraction
Improving relationships
How to give BEST Presentations
Value vs. Price
Asking vs. Telling
Satisfaction vs. Loyalty
When you attend the Sales Training in Dallas for Sales Leaders you will master:
How to hire the best people
Retain an amazing team
Exceed all your goals
1 DAY … 2 DIFFERENT EVENTS
WHERE DO YOU BELONG?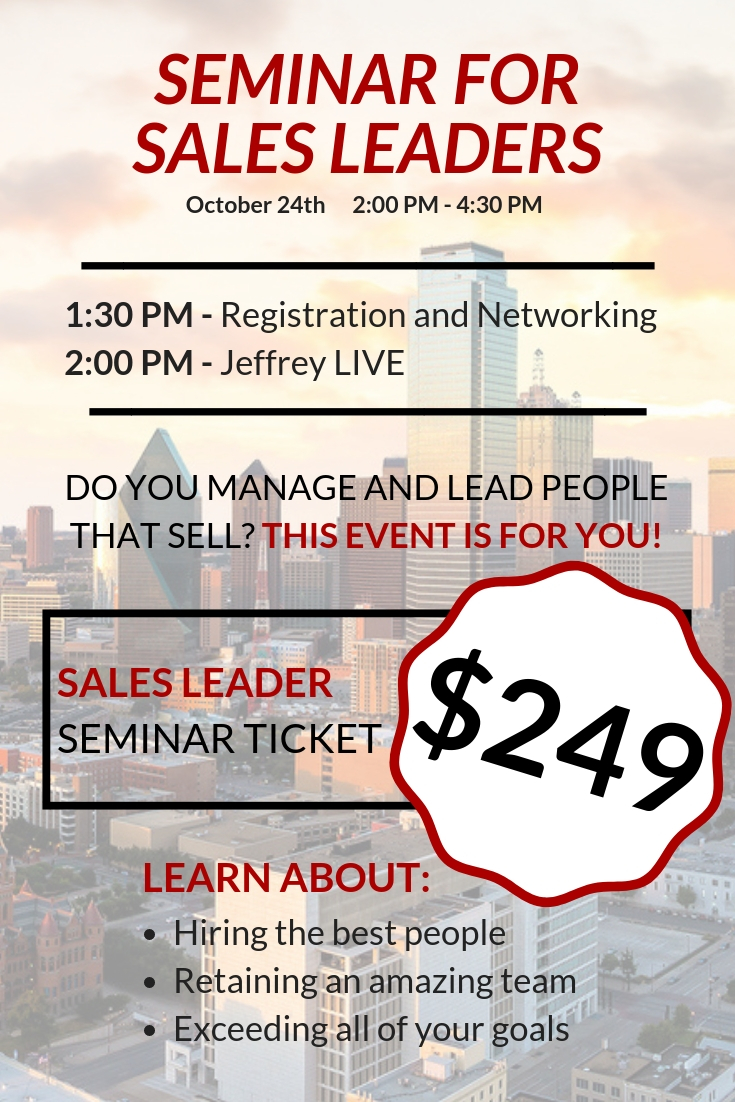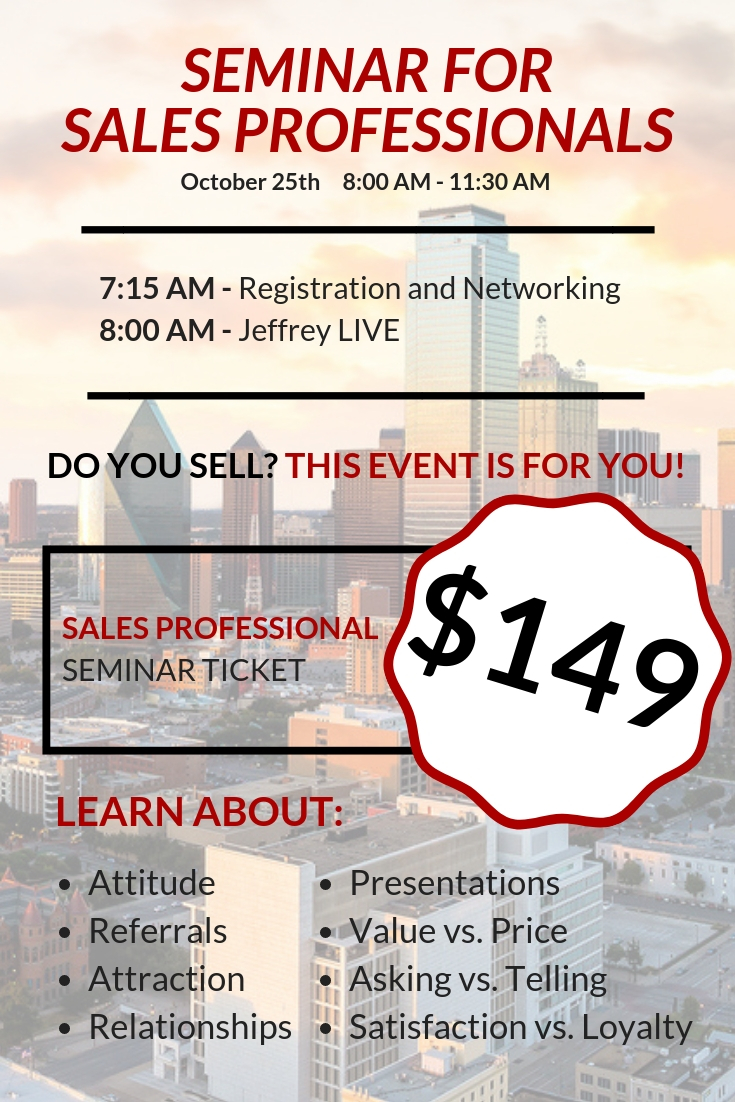 DO YOU MANAGE, LEAD,
AND

SELL?


COME TO BOTH EVENTS!
Find Jeffrey Gitomer's Live Sales Training in Dallas
Here's the question: What are you learning new every day?
Something or nothing?
How often do you get sales training? When I was 20, I knew everything. By the time I reached 21, I realized how stupid I actually was. Somewhere between the ages of 20 and 21 (personal enlightenment), I rededicated myself to education, personal development, and professional development. And I've stayed on that track for more than 45 years. My goal then, and my goal now, is learning something new every day.
And the only way that I can achieve that goal, is to expose myself to new information on a daily basis. The great Jim Rohn said, "All the information you need to succeed already exists; the only problem is you're not exposing yourself to it."
In today's world of information overload, I have to be selective about what I subscribe to, and what I read. I feel certain that you are the same.
Your challenge is to learn something new every day. And attending my live sales training in Dallas is the best place to start.
When you join my live sales training in Dallas, you'll …
Work on improving yourself — "Work harder on yourself than you do your job" is advice legendary author Jim Rohn used to teach. He was right. We must never stop learning and growing. Part of that work is listening to yourself. When your heart speaks take heed and take good notes. You see … being a person of character has little or nothing to do with the position you hold or the title you carry. It's all about the way you do your job (the attitude, energy, competency, creativity and perspective you bring to life everyday).
Your insight, ideas, and thinking process come from exposing yourself to other insightful thinkers. From Albert Einstein to Oscar Wilde. From Abraham Lincoln to Martin Luther King. From John F. Kennedy to Benjamin Franklin to my sales information at my live sales training in Dallas — begin to expose yourself to new information — even if it's 100 years old.
SPONSORS
Gitomer's Make More Money Seminar Series can connect you with the best salespeople, the best sales leaders and the best entrepreneurs on the planet. We invite you to join us as a sponsor to feature your company.